Yeahhhh lets random dancing for the victory of Jep Sepahtu. The winner of Super Spontan 2013!!! Oh yeahh tak sia-sia habis RM3 voted Jep malam tadi. Aku dah agak dah mesti Jep juara. Punch line dia semua awesome and superb malam tadi. Of course lah aku gelak guling-guling tengok dia.
Handsome, tinggi, berkarier, humble and kelakar. Oh mann...jom couple Jep!!! HAHAHA :D Haihhh nak dekat SPM pun still fan girl lagi. Elehh takpe lah. Semalam (Jumaat) seharian study BIO, mana tak peningnya kepala nak ingat semua fakta. So, kira berbalaoi lah kan released tension belajar tengok Super Spontan kan. Plus Jep pula yang menang kan. Lagi lah aku puas. HEHEHEH :D Laughter is the best medicine, right? :)
Congratess Mohd Nadzri // Jep Sepahtu. Dapat RM100 000 and Nissan Slyphy. Huhhh shopping sakan lah Jep untuk Depavalli. HAHAHA.
*congratess Jep! I love you :D*
*Mintak Jep belanja shopping lah :P*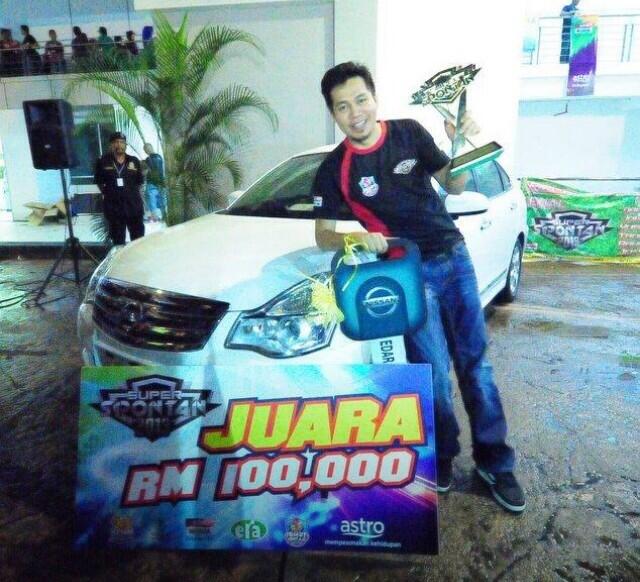 *wahh kereta baru. Tumpang hantar pergi sekolah untuk SPM boleh? HEHE :P*
*Parody Puteri Awani HAHAHAHA ;D*
Okay. Super spontan 2013 was over. Now heading to Maha Raja Lawak 2013. yeahhh Sepahturious pulaa!!!!!
*hoi hoi hoi SPM hoi -.-*
Okay okay. Jeppers jeppers pun aku sedar lagi ada SPM. Tahulah aku nak bahagikan masa belajar dengan Jeppers. Don't worry. I won't put Jeppers first. It's just my entertainment to release my tensions. :) Wokay. Keep calm and FREAKED OUT and be JEPPERS !!! ;)